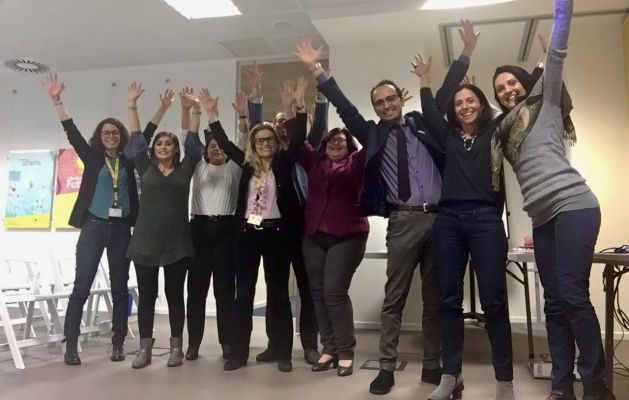 Personally, I am amazed by how fast the participants considered the LIS Woman group to be 'a safe place' to be able to bring their stories/their questions with them and share with the rest of the group in a very authentic way. How much trust can do – the women in the group have diverse nationalities, diverse backgrounds and it feels like they have known each other for a long time. The level of cooperation, support, listening and respect is stellar! The diverse backgrounds of the participants brings such a richness. Being based in different places, from different functions, brings so much value in the collaboration.
I have worked in several industries, but they have always been very male dominated industries. I realised through this group that I always struggled to be fully myself in those spaces, that I was always suppressing part of myself in order to be seen as professional or to be seen as in control – especially having emotional reactions to things that might be happening. I think the best thing I have learned from this group is how to be fully myself in a professional context and how to use my strengths as the person that I really am and how to use that to my advantage both as a leader, as a professional, and as a human being – we are still people in these professional contexts.
Great opportunity to explore my thinking, style and approach. Laura brings good models, reflections and challenges. Been good in these Covid times. As for business specific value of coaching, improving my leadership in conflicts will drive better decisions and therefore business performance.
The Grooa simple and practical approach and the C.L.E.A.R.tm Method helped me a lot in gaining the confidence and competence to easily handle difficult conversations, much better than other conflict management courses.
Laura's executive coaching helped me increase my personal influence and become a better leader, helping to grow my team and have more insightful discussions with stakeholders, bringing to the table positive alternatives
Thanks to the Grooa training, our Commercial Team has learnt improved negotiation skills that makes them more engaged, confident and effective; Laura has also helped me personally to become a more influential strategic business partner, and to contribute at best with personal and professional satisfaction.
Coaching was very productive, with right questions and pointing out the areas to focus and think about; right exercises targeting the areas for improvement. I have improved my leadership style to further benefit my organization and folks that I work with. I have improved through understanding what puts me into my box and how could I get out of it to be my-best-self.
I joined LIS because of two main things: I know from experience the value of learning from peers and, having had a long career in many different roles in international business, I hope that I can contribute with insights and experiences that are useful for others. Being a women's network, LIS provides a safe environment for discussion and learning. The group offers fresh perspectives on key topics, giving me the opportunity to both build on and challenge my own beliefs, and thus expands my mind. I always feel highly energized – and happy! – after our sessions.
I found  the C.L.E.A.R Mindset training course to be extremely valuable in equipping any Innovation Teams with the tools and techniques on how to get what it takes to do a great job.
It was valuable to always get alternatives, impartial perspective on the situations I was 'in', very valuable and practical advice, full of care and experience
Being coached by Laura was a positive and empowering experience. It has made it easier for me to make better choices and given me more energy in my everyday life.
Having a CLEAR approach I'm more relaxed… the counterpart can easily catch that feeling… and that is crucial!
Helped me better overcome a conflict situation in my team and be at my best as a leader.