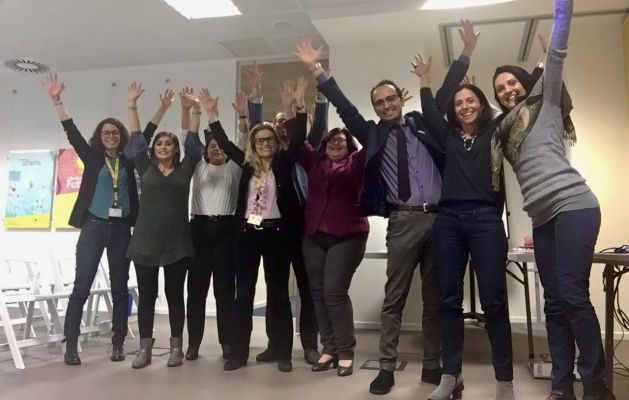 Great opportunity to explore my thinking, style and approach. Laura brings good models, reflections and challenges. Been good in these Covid times. As for business specific value of coaching, improving my leadership in conflicts will drive better decisions and therefore business performance.
The Grooa simple and practical approach and the C.L.E.A.R.tm Method helped me a lot in gaining the confidence and competence to easily handle difficult conversations, much better than other conflict management courses.
Laura's executive coaching helped me increase my personal influence and become a better leader, helping to grow my team and have more insightful discussions with stakeholders, bringing to the table positive alternatives
Thanks to the Grooa training, our Commercial Team has learnt improved negotiation skills that makes them more engaged, confident and effective; Laura has also helped me personally to become a more influential strategic business partner, and to contribute at best with personal and professional satisfaction.
Coaching was very productive, with right questions and pointing out the areas to focus and think about; right exercises targeting the areas for improvement. I have improved my leadership style to further benefit my organization and folks that I work with. I have improved through understanding what puts me into my box and how could I get out of it to be my-best-self.
Helped me better overcome a conflict situation in my team and be at my best as a leader.
I was truly amazed of her ability to bring change to mindset in a very positive way, so a big thank you to Laura!
I found  the C.L.E.A.R Mindset training course to be extremely valuable in equipping any Innovation Teams with the tools and techniques on how to get what it takes to do a great job.
The sessions were an eye opener for me. Within a relatively short period, Laura has significantly helped me with the interaction with difficult people/situations: I learnt to use a more inquisitive coaching approach, without losing temper; she has directly helped me with improving my relationship with stakeholders and some of my team members that I was struggling with for some time. My stress level decreased significantly, that was noticed and acknowledged by my team members and my line manager. I learnt various collaboration approaches especially useful in complex and tense working environments.
It was valuable to always get alternatives, impartial perspective on the situations I was 'in', very valuable and practical advice, full of care and experience
Being coached by Laura was a positive and empowering experience. It has made it easier for me to make better choices and given me more energy in my everyday life.
Having a CLEAR approach I'm more relaxed… the counterpart can easily catch that feeling… and that is crucial!